Prerequisites: 
Contents:

Refined flour(MAIDA): 1 cup
Butter+ Ghee: 1/2 cup.
Sugar Powder: 1/2 cup.
Crushed Groundnut or any other dry fruit : 1/4 cup.
Baking Powder: 1/4 teaspoon.
Curd: 1/4 cup.

Equipment:

Measuring spoon(if available).
Cup.
Glass Bowl.
Thin Plastic film.
Roller(belan)
Biscuit cutter/ knife.
Microwave.
Baking tray.
Low rack of Microwave.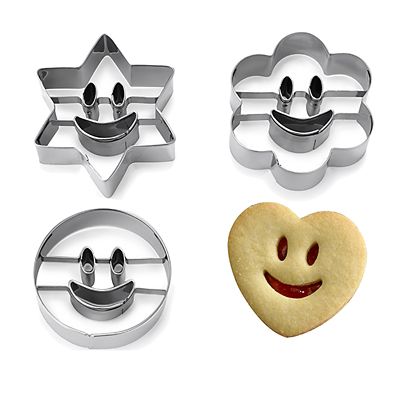 Biscuit cutter
Procedure:
Mix together butter-ghee and sugar powder and beat till the mixture becomes fluffy.
Add the remaining contents, that is, baking powder, curd, crushed groundnut and refined flour and mix with the help of a spoon–> This completes the preparation of dough–> shape it like a ball.
Make a 5 mm thick 'roti' of the dough prepared above using a roller(belan). Use a plastic sheet(a clean thin film) to prepare this roti to avoid sticking issues.
Use a knife or biscuit cutter(shaped fancy stencils) to cut the above roti into the desired shape.
Arrange the pieces obtained after cutting with a space of not more than 1 cm in a baking tray.
Microwave steps:

Set it in the Convection Mode – 180 degree.
Then press the 'Preheat' button.
Place the tray on the low rack
Bake it for 15 minutes.

After the baking process is complete–> take the tray out –>let it cool for a while.
Your delicious cookies are ready to eat.
NOTE:
Keep the cookies in an airtight box.
These cookies can be best consumed till 15 days of baking.