In one of the previous posts, we explained in detail the notion of predestination.One of the important arguments for predestination is the Law of Karma. In this post, we will be explaining in detail the whole concept of the Law of Karma in detail.
What is Law of Karma?:

Law of Karma in general or layman terms can be put as -" As you sow, so shall you reap".
So, essentially, it is a law of justice in the life of human beings.

If it is a law, then there needs to be a legislator and a regulator. Who is it?:

As commonly believed, this regulator/legislator is GOD.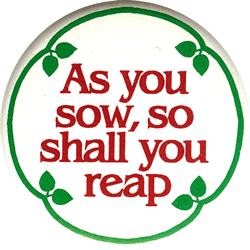 If Law of Karma is valid, then why do we see good people suffering and evil people thriving well?:

This is one of the strongest argument against the Law of Karma.
The defence so given by the proponents is that the law is not just applicable to this life but to all the lives of a human being.Thus, the notion of rebirth(to be explained in a later post) is central for the validity of the Law of Karma.
A human being who is doing evil deeds in this life in thriving well due to his good deeds of the previous birth.

Does Law of Karma define our destiny?:

As we understood in a previous post on Predestination, Law of Karma governs our destiny to a considerable extent.

Is Law of Karma consistent with free will?

This is also one of the common objections against the Law of Karma–> If everything is determined by the Law of KARMA, then the human beings do not have free will.
One extreme view would uphold that, yes, human beings do not have free will.This includes Western Philosophers like Baruch Spinoza and Indian Philosophers like Ajivikas.Other strike it down as absurd.
However, a balanced view has been explained on the basis of an analogy of "a horse tied to the pole with the help of a rope." The horse could do whatever it wants to within a defined limit, that is, the radius of the rope and not beyond that. So, this radius signifies the limit to which we can do anything we want to in our life based on our free will. Beyond that, destiny plays its role.

How our desires get fructified on the basis of Law of Karma?:

This also can be understood with the help of a real life example.
Consider your desire to be a resume for a job. There are certain prerequisites for the job. If you fulfill those, then you are qualified for the job else your application is liable to be rejected. So, the need is to have those basic minimum requisites.
Now, apply it to your desire and fruits. Corresponding to every desire of yours there is a certain minimum level of karma required. If you have those, then, you will be able to accomplish your desire else not.

What is the significance of the Law of Karma?:

It motivates us to do good deeds so that we get good fruits in future, thus, promotes moral values among the believers.

What could be the negative consequences of the belief in Law of Karma?

It may induce a sense of irresponsibility as people would do away from accepting their mistakes.